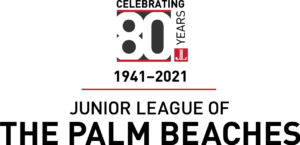 Since 1941, the Junior League of the Palm Beaches has focused its financial and volunteer resources on building better communities. Every year we donate more than 3,000 volunteer hours directly into our community and dedicate countless more hours training women to become community and civic leaders.
Your support allows us to continue making lasting change in Palm Beach County.
JLPB is celebrating 80 years of service throughout Palm Beach County. Help us guarantee 80 more years by donating $80.80 today.
Your donations help fund our community programs and empower the next generation of women leaders. Each dollar used in the community by JLPB is multiplied in value by our volunteers' time.
Sponsoring JLPB or one of our signature fundraising events puts your dollars to work in our community, while extending your brand's reach to our 700 members who are community leaders, executives, mothers, professionals and volunteers from diverse backgrounds.