The Alliance for Period Supplies at the Junior League of the Palm Beaches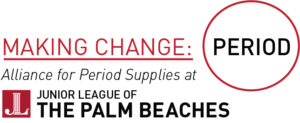 Period poverty is a global issue, and here in Palm Beach County we have a large population that cannot afford period supplies.
The Junior League of the Palm Beaches has formed a partnership with the Alliance for Period Supplies, which accepts donated pads and panty liners from U by Kotex. The Junior League of the Palm Beaches obtains and distributes these period supplies to various organizations in our community to help women in need.
The goal for JLPB and our JLPB Period Poverty Supply Bank is to help alleviate period poverty by hosting donation drives and then distributing supplies to those who fall into the low-income bracket and the homeless. Our goal is to distribute thousands of supplies throughout the year.
Statistics:
1 in 4 women in the United States suffer from period supply poverty.
Rent, transportation, groceries, childcare, diapers, and clothing take precedence in a woman's budget, quickly making period supplies a luxury.
Women who cannot afford period supplies report feeling stressed, unhealthy, hopeless, embarrassed, ashamed, disappointed, angry, sad, unworthy, forgotten, inadequate, worried, and worthless.
In low-income families, when period supplies are obtained, they are usually given to the daughters in the family leaving the mother to go without.
Without access to period supplies, women report using tissues, toilet paper, paper towels, cut up diapers, old socks, ripped t-shirts, towels, or rags.
Without transportation, lower income families tend to buy period supplies at convenience stores rather than a large retailer, which can double or triple the monthly cost.
Period Supplies cannot be obtained with food stamps or any other government safety net program and are classified with cigarettes, alcohol and pet food as disallowed purchases.
If your organization is interested in becoming a partner, please click here.
How You Can Help: