Previous Community Projects
The Junior League of the Palm Beaches believes that women as well-trained volunteers can strengthen and transform communities. Since our founding in 1941, JLPB has helped establish numerous community initiatives and organizations that have had a lasting impact on Palm Beach County. 
Cox Science Center and Aquarium
One of JLPB's first major initiatives was founding the South Florida Science Museum in 1959, now known as the Cox Science Center and Aquarium. The first wing opened in 1961, followed by the addition of a planetarium in 1964. Today, the museum is a strong and viable part of the community. Its mission is to "Open Every Mind to Science."
Gaines Park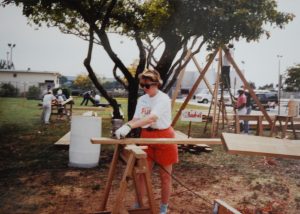 During the 1991-1992 League year, JLPB members organized and coordinated the building of a 10,000 square foot, multi-level, wooden play structure in Gaines Park. Approximately 2,300 community volunteers participated in this project.
Quantum House
In 2001, JLPB helped establish and build Quantum House, a supportive home for families of children receiving serious medical treatment in Palm Beach County. It remains the only hospital hospitality house serving children and their families this way between Miami and Orlando, Florida.
Vita Nova
In celebration of our 75th Anniversary, JLPB spearheaded the 2015-2016 renovations of Vita Nova, a dormitory style living facility in West Palm Beach for boys and girls, ages 18-25, who have aged out of the foster care system and would be homeless without this program's help. At Vita Nova, residents learn basic life skills training along with virtues-based critical thinking skills so they can transition into life as an adult.