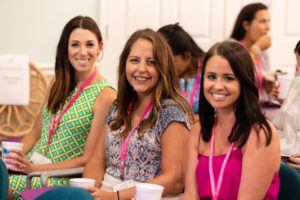 Membership in the Junior League of the Palm Beaches looks different for everyone, but we are united by our desire to develop our potential, improve our community, and promote voluntarism. As a member of JLPB you will have the opportunity to give your time to worthy causes, gain leadership skills and experiences, and grow as an agent for change in our community.
Responsibilities
As an organization run by volunteers, JLPB members play a critical role in the functioning of the League. As such, members have various
responsibilities based on their years of service.
Annual Dues –Every Active member pays an annual fee of $200 to maintain membership in the League. Dues are used to fund the
League's administrative expenses. Dues are owed by April 15 of each year.
League Placement – Active members are required to hold a League placement, or job, through which they help support the League's
operations and its work in the community. Every year, members choose from leadership roles across all areas of the League and
countless more committee placements.
Meetings, Trainings & Volunteer Requirements –Members can choose from a variety of meetings, trainings and volunteer opportunities to fulfill their annual point requirements. These requirements are tiered based on years of service in the League.
Fundraiser Support –
Members are asked to support the League's fundraising events throughout the year, which raise funds exclusively for our mission-based programs.
Membership Levels
The Junior League of the Palm Beaches provides the opportunity for lifelong membership. During their League careers, members participate in three levels of membership. These transitions allow members to develop their potential and share their knowledge with other women leaders. They also allow members to customize their level of involvement based on their years of service.
New Members
Each year, JLPB welcomes 40 to 100 new members into the League. During their first year of membership, New Members participate in a robust training program where they are equipped with the tools for becoming effective and informed volunteers and discover how they can be part of the League's work to build better communities. Learn more about how to become a New Member.
Actives
Active members are those who have successfully completed a New Member year. Each Active Member is required to assume a placement within the League to help support the League's operations, fundraising or community work. Placements include serving on a committee to support our community work, membership, fundraising or communications or serving in a leadership role at every level of the organization.
After 7 years of active service, members have the option to choose an Active Gold membership status, which allows them to customize their League experience with fewer commitments.
Sustainers
Sustainers are former Active members who have completed at least 10 years of active service. Sustaining members have no placement requirements but continue to support the League through their time, talents, and giving. Sustainers hold separate meetings and social events, and share in all of the privileges of JLPB membership except voting and holding office.