New Member Commitments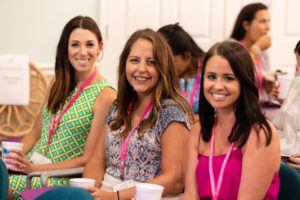 New Members work to complete the membership commitments to be admitted to Active membership. They are not eligible to vote or to hold office.
During their New Member year, every member is required to complete a training course based on the Association of Junior Leagues International (AJLI) guidelines. Before the training course begins, each New Member is given an orientation of the responsibilities and privileges of membership and must agree to engage in community service for the Junior League. A New Member who is unable to complete all New Member commitments during a twelve month period may resign in good standing and reinstate when she is able to complete the New Member Training.
For the Junior League of the Palm Beaches, the New Member Training runs from September to May. The purpose of the course is to train and educate the New Members to be effective and informed volunteers. New Members will learn about AJLI, Junior League of the Palm Beaches, and the community it serves. New Members are encouraged to participate in League volunteering, fundraising events and social functions. To ensure that all New Members receive the training needed to serve as effective active members of the Junior League, participation in the following activities is required for all New Members (as described in detail in the application):
Application, Application Fee ($100) and New Member Dues ($175) must be submitted by September 1st of the current year. Any New Member who does not submit the Application Fee and New Member Dues by September 1st will forfeit her place in the New Member class.
Attendance is required at 5 New Member meetings and 3 General Membership meetings.
New Members are required to volunteer at JLPB Community Projects for a total of 10 service hours over the course of the New Member year.
Active annual dues of $175 will be due March 1st for the forthcoming new league year. For example, Annual Dues will be due March 1, 2022 for the 2022-2023 league year.
Upon completion of the New Member course in May, New Members will reach Active member status.
Active Member Commitments
Active members of the Junior League of the Palm Beaches commit to:
Successfully complete the New Member training course.
Satisfactorily attend and participate in assigned Committee placement.
Earn at least 25 points on Junior League sponsored projects in addition to assigned committee placement's requirements.
Pay annual dues of $175 by March 1st
Fulfill volunteer commitments for annual fundraisers