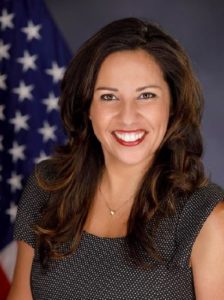 Christina Lambert is known by her peers as an innovative leader full of energy and new ideas, Christina's passion for the community can be seen through the work she has done to support local education, children and women's issues and leadership development programs.
Raised in a blended family, Christina learned early on the value of hard work and the importance of family and teamwork. Christina's grandparents, who immigrated to America from Mexico, showed her that service to your country and to your neighbors was an integral part belonging to a community.
Christina instilled these values into her role as the West Palm Beach City Commissioner for District 5 as well as her career. As Executive Director of Leadership Palm Beach County, Christina  brought together leaders from across Palm Beach County to look at local issues, including jobs and economic development, education, homelessness and public safety. This role led Christina to serve as the President and CEO of the Education Foundation of Palm Beach County. The Education Foundation of Palm Beach County is the leading philanthropic organization for the PBC School District, the 11th largest school district in the country. During her time with the foundation, Christina oversaw an increase in private funding to support local schools and launched new programs that helped teachers and students, including Red Apple Supplies, one of the most successful public private partnerships of the Education Foundation.
Today, Christina is a Managing Director at Productive Power where she works with local CEOs and business professionals on improving their corporate businesses practices, including  implementing better organizational policies, increasing efficiencies and streamlining internal procedures. She is personally driven to help professionals reach their fullest potential. Christina has defined her career leading organizations through change that creates results.
Christina has been a member of numerous community organizations such as Leadership Florida, Leadership PBC, Economic Council of Palm Beach County, Business Development Board, Chamber of Commerce of the Palm Beaches, Forum Club, Economic Forum, SunFest, Habitat for Humanity, Nonprofits First, 211 Crisis Line of the Palm Beaches & Treasure Coast, Grassy Waters Conservancy and the West Palm 100.
Christina graduated with a Bachelor of Science in Public Relations and Business with High Honors from the University of Florida and has a Master of Arts in Corporate Communication and Technology from Rollins College.
Christina, her husband Monte, and son Noah live in the southend of West Palm Beach.