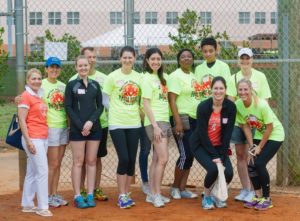 Junior League women make things happen – they form strategic partnerships, create innovative programs and raise funds for exciting community initiatives. So what sets Junior League volunteers apart from the rest? They are not just women who want to improve communities; they are women with the training and skills to make it happen!
Since Mary Harriman convened the very first Junior League in 1901, The Junior League's emphasis has always been on learning. Members benefit from extensive training in leadership and organizational development, community needs assessment, strategic planning, communications, advocacy and fundraising. Through this unique training, League members learn to manage and train volunteers, unite communities and form partnerships.
In addition, all members of JLPB are part of the Association of Junior Leagues International (AJLI). AJLI provides resources to its member Leagues through conferences and training events as well as through materials posted on their website. AJLI has also negotiated special Junior League benefits for individual members on everything from financial products to hotel accommodations and car rentals.
On a local level, JLPB members can enjoy the following:
South Florida Science Center and Aquarium
Discount on Young Professionals Membership